How to Import Data to InterBase or Firebird Tables?
Sharing data across software applications is inevitable in any business environment. Due to the fast evolution of the business process automation and of electronic commerce, we are today, more than ever before, faced with the problem of transferring data between heterogeneous systems, and, in particular, between data storages whose structures are substantially different. In this sense, InterBase and Firebird database systems do not make an exception, since flexibility and reasonable system requirements allow them to coexist with the data storages of any kind.
Usually, companies exchange and share information across the country and the world because modern business transactions very often require data exchange between corporate organizational boundaries and exterior parties. Thus, the number of available heterogeneous data sources increases and there will be occasions when you need to import information to an InterBase/Firebird database from such data storages as CSV files, XML and HTML documents, Excel worksheets and so on.
GUI Tools to Import Data to InterBase & Firebird
However, transferring data manually is a cumbersome and time consuming process that often results in errors; therefore this situation has created a high demand for automated data transfer software. The importance of data exchange between different information sources and InterBase/Firebird servers is constantly rising, and many tools have been developed to help in fulfilling the data exchange.
EMS Data Import for InterBase/Firebird is a powerful program to rapidly import data from MS Excel 97-2007, MS Access, DBF, XML, TXT, CSV, MS Word 2007, ODF and HTML files to InterBase/Firebird tables.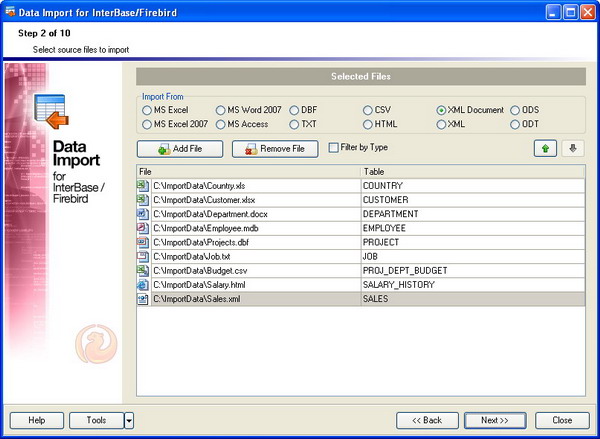 The tool has an intuitive easy-to-use interface and works with the latest versions of InterBase and Firebird database systems. Offering a wide range of supported source file data formats, the program can import data to one or several tables or views from different InterBase/Firebird databases, save all import parameters set on the current wizard session; it also supports secure shell (SSH) tunneling connections and more.
EMS Data Import for InterBase/Firebird divides data transformation procedure into a set of processing stages guided by the graphical wizard that collects the necessary import parameters step by step. For each source file you can assign one or more corresponding database tables and define appropriate individual import parameters, such as field mapping (association between columns of the source file and fields of the target InterBase/Firebird table), base data formats (date and time formats, separators, Boolean and Null values representation) and others. If the source file and the destination InterBase/Firebird table have the same order of columns, you can use the Autofill feature to set correspondence between them automatically.
Moreover, the program allows you to set formats for each imported field individually, in case additional formatting is required. For example, you can set the initial value and the step of the autoincrement field, set a constant value for the field, define the text that needs to be replaced during data import into the field and much more. Depending on the selected method of the existing data replacement, you can choose one of several import modes and indicate the primary key field if necessary. Additionally, the utility allows you to define scripts to be executed for each InterBase/Firebird database before and after the import process.
Besides the GUI version which is implemented in the form of a wizard application, the installation package of Data Import for InterBase/Firebird includes the console version which can be run from the Windows command line with a template file name used as an execution parameter. That makes it easy to automate the whole data import process.
Initially InterBase and Firebird comes with a limited set of database administration utilities that are capable to accomplish only base assortment of administrative tasks. Most of these utilities operate with a command line interface so it is often inconvenient, especially when processing a large amount of data. EMS SQL Management Studio for InterBase and Firebird provides you with an ability to contribute to the efficient InterBase/Firebird administration and development using a variety of available tools. These tools are able to respond to day-to-day challenges of availability, performance and administration of critical database application systems.