How to Compare InterBase/Firebird Databases?
There are many different reasons for change management, particularly with respect to the IT sphere and database systems. Business processes change to reflect new management tasks, the network infrastructure changes to provide support for geographically isolated employees. Applications and systems change to handle existing database data differently or to include more or new types of data and so on. In that way, the type and structure of information changes requiring modifications to the underlying database schemata to accommodate the new data.
Although the InterBase and Firebird database management systems are quite autonomous and don't need special attention, the process of making changes in the database structure requires the direct participation of administrators and application developers. Additionally, when implementing a change to an InterBase or Firebird database, every aspect of the change needs to be examined because it could result in unexpected costs for the company.
Perhaps the most widespread method of managing database changes is to do it manually. This involves special hand-crafted upgrade scripts for changes introduced in the database code, schema and table data. There may also be the need for an equivalent downgrade script which can be used as an emergency to rollback a failed InterBase/Firebird database upgrade.
GUI Tools for Automating InterBase/Firebird Comparison Process
However, when dealing with manual processes, there is always a risk that the development and testing environments do not match the production database in some way. This may lead to production outages that could have been avoided if there was an assurance that what was created and tested matches precisely what is placed on the production system. Therefore, it is highly recommended to systematize and automate InterBase/Firebird database synchronization tasks by using software that automates database propagation and deployment by performing such tasks as generation of the SQL commands required to shift a database to the desired version.
EMS DB Comparer for InterBase/Firebird is a useful utility for automatic database comparison and synchronization. This tool gives you an opportunity to contribute to efficient InterBase/Firebird server administration and development by running database comparison and synchronization operations easily and quickly. It allows you to inspect all the differences in compared InterBase or Firebird database objects and execute an automatically generated script to eliminate these differences.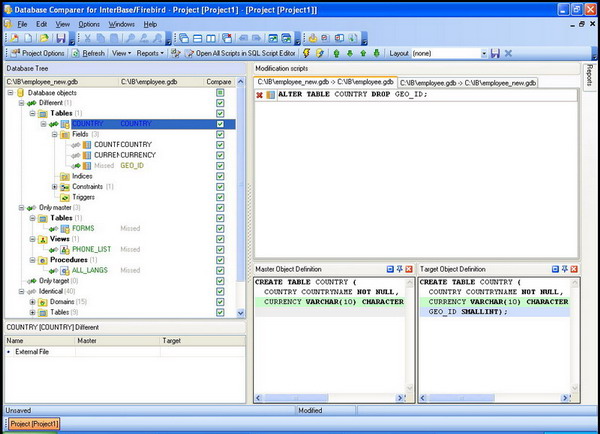 The program visually demonstrates the differences between source and target database structures and has an ability to synchronize InterBase/Firebird databases automatically or manually step by step, create reports with database distinctions, compare and synchronize databases or schemas on different servers as well as on a single server and much more.
EMS DB Comparer for InterBase/Firebird allows you work with several synchronization projects at once, define comparison parameters and alter modification scripts using the powerful SQL editor. The utility supports the latest InterBase/Firebird versions, can connect to database servers via SSH tunneling, has a user-friendly customizable interface that greatly simplifies discovering and eliminating differences in the InterBase/Firebird database structure and has many other features. Additionally to the GUI version the installation package of DB Comparer for InterBase/Firebird contains the command-line utility which is designed to be run from a scheduler. This allows automate process of the regular unattended synchronization of InterBase/Firebird databases.
Besides comparing schemas of databases, you can furthermore compare the data between two InterBase or Firebird databases that have the identical schema. EMS Data Comparer for InterBase/Firebird is a powerful and easy-to-use utility for InterBase/Firebird data comparison and synchronization. The tool allows you to update the target database to match the data of some or all tables from the source database. You can also use this practice to compare a source database with a newly deployed empty InterBase/Firebird database and to fill the target database with the data from the source. During this process, you first connect to a database, compare the source data and target data, and then update the target data.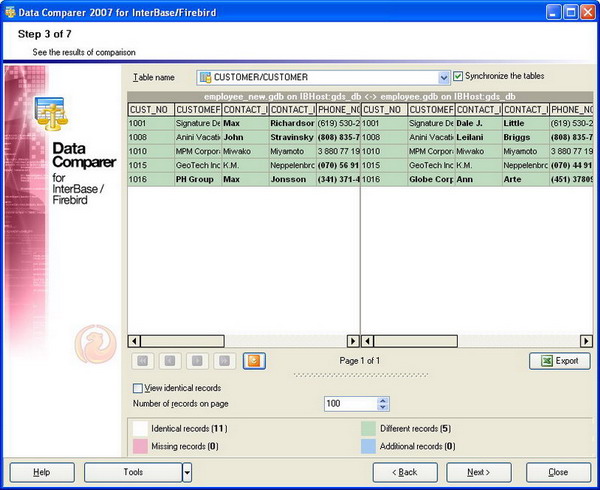 Flexible customization of the comparison and synchronization process will enable you to select tables and fields for comparison, perform partial data synchronization or data comparison for several tables at once, save the data synchronization script to a file for future use and tune many other options to successfully compare InterBase/Firebird table data. The program installation package contains a command-line utility to compare and synchronize data on the schedule basis using the configuration file.
The complexity of database systems is increasing and IT departments face growing demands to distribute functionality and appropriate, accurate information to ensure the organization's competitive lead. EMS SQL Management Studio for InterBase/Firebird delivers innovative, high-productivity development and management tools for solving a wide spectrum of everyday database related tasks.